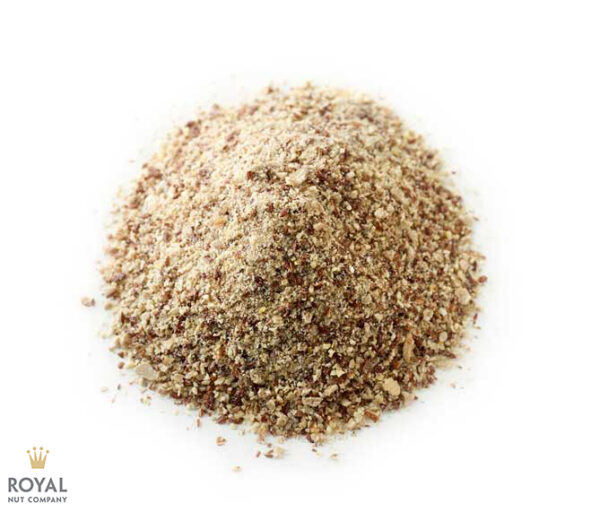 LSA
From: $5.50
Our LSA is a delicious and extraordinarily nutritious blend of linseeds, ground sunflower seeds and ground almonds. Although some LSA mixes contain ground linseeds, we purposely keep ours whole to prevent the precious oils in the linseed from going rancid. LSA has a slightly nutty flavour and light crunchy texture. Our blend also has an equal mixture of all three ingredients- you will taste the difference! There's no skimping on quality here at Royal Nut!
Nutritional Info

| | | |
| --- | --- | --- |
| GRAMS PER SERVE | 50 | |
| SERVES PER PACK | 10 | |
| | PER SERVE | PER 100g |
| ENERGY | 1190kJ | 2380kJ |
| PROTEIN | 10.2g | 20.4g |
| FAT, TOTAL | 24.55g | 49.1g |
| SATURATED | 1.9g | 3.8g |
| CARBOHYDRATE | 6.2g | 12.4g |
| SUGARS | 1.25g | 2.5g |
| SODIUM | 6mg | 12mg |

Ingredients

Linseed, sunflower kernel, almond.

Health Benefits

LSA contains a broad range of valuable nutrients: fibre to improve digestive health, the powerful antioxidant vitamin E to help protect the body against damage, calcium for strong bones, iron for the immune system and zinc for beautiful healthy skin.

Country Of Origin

Made in Australia from local and imported ingredients

Storage Instructions

Keep refrigerated before and after opening to ensure long-lasting freshness

How To Use

Mix it through your morning muesli, or sprinkle it on your afternoon yoghurt for an extra nutritious snack. Add it to your baking, tastes great in a muffin or cookie recipe! Think outside the box and use it instead of breadcrumbs to coat meats for a crunchy, tasty and incredibly healthy finish. As with all nuts and seeds, it is important to store the LSA in the fridge to ensure freshness and prolong shelf life.