RAW CACAO PROTEIN BALLS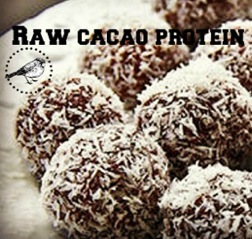 Ingredients
½ cup hazelnut meal
2 tablespoons protein powder
2 tablespoons cacao powder
12 fresh dates, pitted or 2 tablespoons rice malt syrup
1 tablespoon pure vanilla extract
1/2 teaspoon ground cinnamon
1 tablespoon almond, brazil and cashew nut butter
1 teaspoon chia seeds
1 tablespoon water
shredded coconut, to roll {or extra cacao powder if you don't like coconut}
Foodie Facts
Do you know the ABC of Good Health? Start off with our creamy and delcious ABC Nut Spread, a Royal Nutty blend of Almond/Brazil/Cashew to kick start your quest for Good Health!
Method
In a bowl, combine the hazelnut meal, protein powder, cacao and cinnamon
In a food processor, add the dates, vanilla, chia seeds, almond butter and process
Add the dry ingredients to the food processor and process
Slowly add a small amount of water and blend so the mixture comes together
Roll about 1 teaspoon of mixture into a ball, then roll in shredded coconut
Pop in the fridge to set
Store in an airtight container in the fridge
Thank you to the beautiful Sheridan Buchanan for this wonderful recipe.
Makes 15 balls