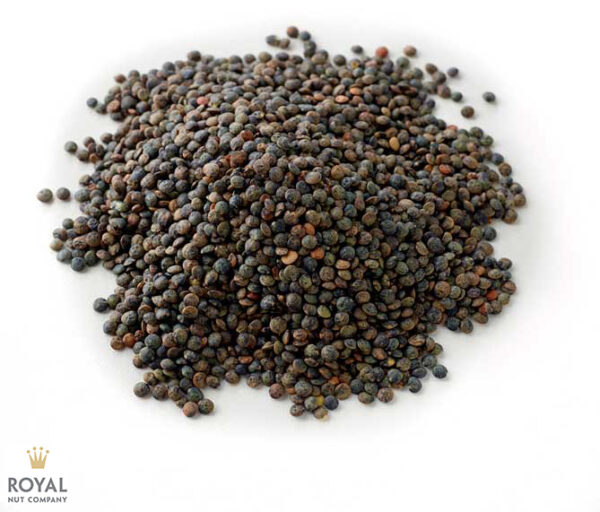 Australian Dupuy lentils
From: $4.80
Dupuy Lentils, with its many different names and pronunciations (Le Puy, Doupoui, Puy) are equivalent to the popular French lentils. These gourmet lentils were originally grown only in France, but are now also grown in Australia and North America. They are dark in colour with a speckled appearance and hold their shape when cooked, meaning that they are perfect for making delicious salads. They have a stronger, more peppery taste than other lentils, and take slightly longer to cook. Renowned worldwide for both their culinary and health benefits, they are a classic in the world of French gastronomy. NEW 5KG BULK PRICE AVAILABLE!
Nutritional Info

| | | |
| --- | --- | --- |
| GRAMS PER SERVE | 50 | |
| SERVES PER PACK | 20 | |
| | PER SERVE | PER 100g |
| ENERGY | 705kJ | 1410kJ |
| PROTEIN | 14g | 28g |
| FAT, TOTAL | 0.45g | 0.9g |
| SATURATED | 0.4g | 0.8g |
| CARBOHYDRATE | 28.5g | 57g |
| SUGARS | 0.5g | 1g |
| SODIUM | 5mg | 10mg |

Ingredients

Dupuy lentils

Health Benefits

French Du Puy Lentils are a natural source of minerals, B-Vitamins and protein. This tiny nourishing giant fills you up, not out! They are a source of cholesterol-lowering fibre, and could also keep your blood-sugar levels stable after meals.

Country Of Origin

Product of Australia

Storage Instructions

Store in a cool dry area away from direct sunlight

How To Use

They pair beautifully with meat and fish. Serve them at your next dinner party - they are marvellous when prepared in a red wine reduction and served with salmon. You will have your friends thinking you have become a French chef extraordinaire! Today, many gourmet dishes are garnished with this low-fat culinary jewel, from sea bream fillets to braised pigeon to the traditional Petit Salé aux Lentilles (lentils with salt meat and sausages flavoured with bay leaves) from the Auvergne region in France. Dupuy Lentils blend nicely with robust flavours like mustard, garlic, vinegar and lemon. And best of all, they don't need pre- soaking, and cook in around 20 minutes.