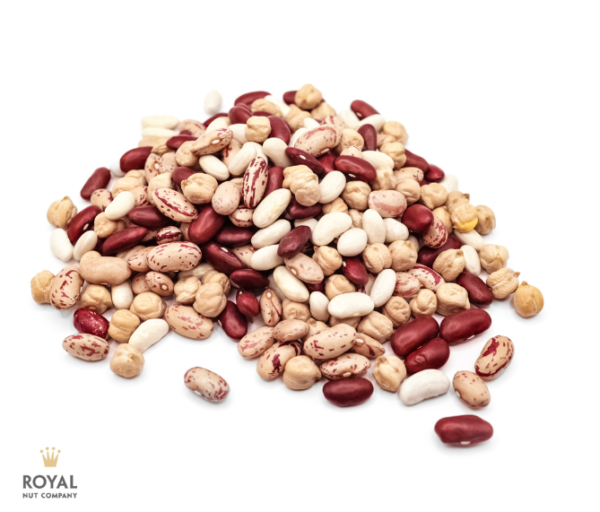 Four Bean mix
$6.00
Red kidney, cannellini, and borlotti beans, accompanied by some raw chickpeas… perfect winter bliss!!
Meet our Soup mix cousin! This 4 Bean mix has come along to turn your winter into something caserole worthy. The smoothness of the borlotti beans and the distinctive creamy texture of canellinni beans, combined with the red punch from red kidney beans and  the golden nuttiness from chickpeas, is everything you need to make a heartly yummy meal. Made with at least 50% australian ingredients, this nutritiuous blend is perfect for stews, soups and curries. Are you a mexican cuisine fan? Our 4 bean mix is a great filling option for tacos, and it can be an amazing ingredient for chilli con carne and salads. So don't wait any longer! Come and get your hands on this delicious mix of goodness.
Nutritional Info

| | | |
| --- | --- | --- |
| GRAMS PER SERVE | | |
| SERVES PER PACK | | |
| | PER SERVE | PER 100g |
| ENERGY | 668kJ | 1336kJ |
| PROTEIN | 11.04g | 22.0g |
| FAT, TOTAL | 1.12g | 2.23g |
| SATURATED | 0.1g | 0.2g |
| CARBOHYDRATE | 24.2g | 48.5g |
| SUGARS | 2.67g | 5.3g |
| SODIUM | 8.25mg | 16.5mg |

Ingredients

Red kidney beans, cannellini beans, borlotti beans and raw chickpeas.

Country Of Origin

Made in Australia from at least 55% Australian ingredients.

Storage Instructions

Store in a cool dry area away from direct sunlight

How To Use

Beans are a pantry staple, so if you have them in your cupboard, you've got a healthy meal at your fingertips! For dry beans, rinse well first. Soaking is optional, but it helps reducing cooking time. It pairs well with casseroles, salads, soups, stews and anything mexican!