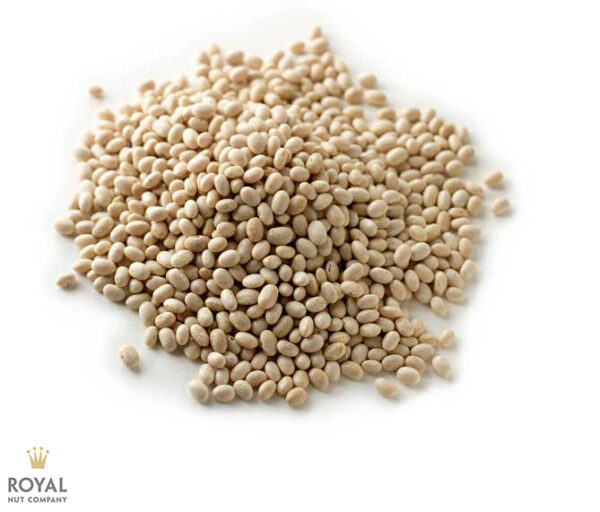 Navy Beans
$4.50
Haricot beans, also known as navy beans, form the base of the infamously popular and tasty baked beans. They are small, white and oval-shaped and have a very mild flavour, making them great for adding to dishes where you want other flavours to dominate. To make your own homemade baked beans, soak the haricot beans overnight and cook as you would regularly. This delicious white bean has a delicate flavour and will assume almost any flavour you give them. Haricot beans are small, oval, plump and creamy-white with a mild flavour and smooth, buttery texture. Haricot beans are widely used in the cooking of countries such as France, Spain, Portugal and South America.
Nutritional Info

| | | |
| --- | --- | --- |
| GRAMS PER SERVE | 50 | |
| SERVES PER PACK | 20 | |
| | PER SERVE | PER 100g |
| ENERGY | 615kJ | 1230kJ |
| PROTEIN | 9.85g | 19.7g |
| FAT, TOTAL | 0.75g | 1.5g |
| SATURATED | 0.1g | 0.2g |
| CARBOHYDRATE | 21.1g | 42.2g |
| SUGARS | 1.95g | 3.9g |
| SODIUM | 2.5mg | 5mg |

Ingredients

Navy beans

Health Benefits

The secret weapon for the healthy soldiers! Legend has it that the reason they are nicknamed 'Navy Beans' is because the US Navy served it as a staple food due to their nutritional value. Haricot beans are rich in protein, folic acid, iron, B complex, and magnesium.

Country Of Origin

Product of Canada

Storage Instructions

Store in a cool dry area away from direct sunlight

How To Use

After soaking, drain the water and add your choice of ingredients such as onions, oil, salt, pepper, mustard, molasses, maple syrup or tomato sauce. Cover with a lid and cook over low heat for one and a half hours. Delicious! They combine well with tomatoes and onions, garlic, spices and lemon juice. Use in curries, fritters, or as traditional baked beans. Wonderfully versatile and mild tasting, they are a popular bean to use in bean salads, vegetable soups, slow-cooked dishes such as cassoulet or bean purées. Why not try combining the beans with cooked roasted buckwheat and healthy sautéed onions and shiitake mushrooms for a hearty main dish.