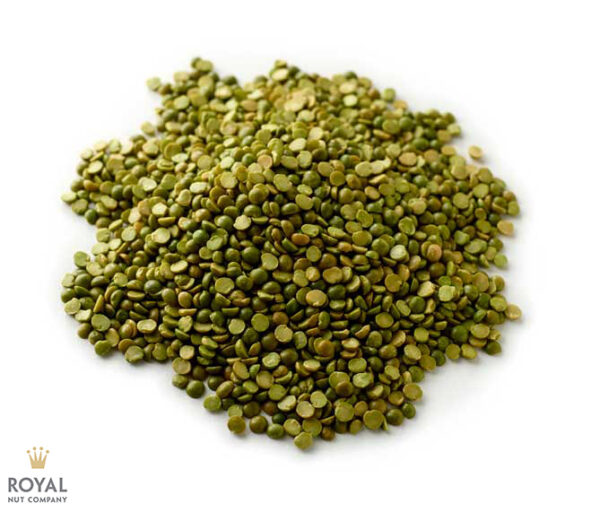 Green split peas
From: $4.50
Green split peas are a stunning bright green addition to your pantry! They have been conveniently split in half to speed up the cooking process (they take around 45 minutes), and make a fast, nutritious and delicious alternative to any diet. When cooked, they form a puree and have a distinctive sweet pea-like flavour.
Nutritional Info

| | | |
| --- | --- | --- |
| GRAMS PER SERVE | 50 | |
| SERVES PER PACK | 20 | |
| | PER SERVE | PER 100g |
| ENERGY | 690kJ | 1381kJ |
| PROTEIN | 10.2g | 20.4g |
| FAT, TOTAL | 0.73g | 1.46g |
| SATURATED | 0.05g | 0.1g |
| CARBOHYDRATE | 33.6g | 67.3g |
| SUGARS | 1.55g | 3.1g |
| SODIUM | 7.55mg | 15.1mg |

Ingredients

Green split peas

Health Benefits

They are a small but nutritionally mighty member of the legume family, and a very good source of fibre. Dried peas also provide important minerals, B-vitamins and protein.

Country Of Origin

Product of USA

Storage Instructions

Store in a cool dry area away from direct sunlight

How To Use

They are great in the cooler months when fresh peas aren't available, and are often used to make pea soup or the British pease pudding. A similar alternative is Yellow Split Peas that are used in the same way.Delicious on a cold winter's day when cooked with ham hocks and bacon. For a tasty spring dish, try simmering green split peas with sautéed onion and garlic until soft. Purée, chill and top with fresh mint.And, of course, split pea soup is a traditional and delightful way to enjoy this nutritious legume. In fact, try adding these peas to any vegetable soup for a tasty addition and a punch of protein.