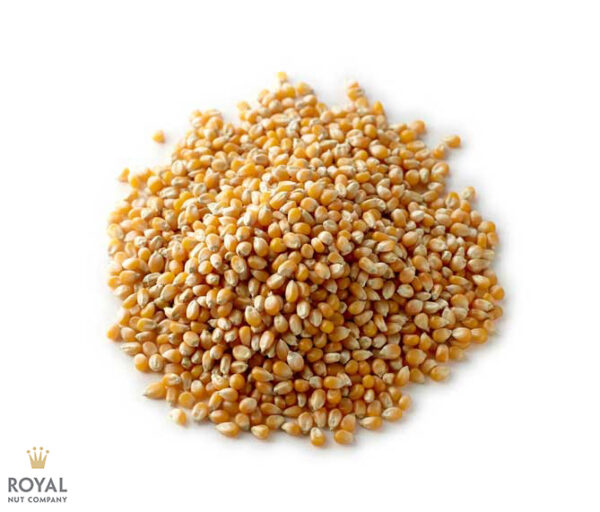 Australian popping corn
$4.50
Hot poppin' popcorn! A favourite of movie audiences and sports fans the world over, popcorn has been around for thousands of years. Ancient ears have even been discovered by archaeologists in Stone Age caves! One of the very first breakfast cereals, in fact, was popcorn served with cream. Fire up the stovetop and enjoy old-fashioned POPCORN – the ultimate snack food. Filling, inexpensive, tasty, savoury or sweet, popcorn can be eaten any way you want.
Nutritional Info

| | | |
| --- | --- | --- |
| GRAMS PER SERVE | 50 | |
| SERVES PER PACK | 20 | |
| | PER SERVE | PER 100g |
| ENERGY | | 1427kJ |
| PROTEIN | | 12.9g |
| FAT, TOTAL | | 4.1g |
| SATURATED | | 0.7g |
| CARBOHYDRATE | | 55.3g |
| SUGARS | | 0.9g |
| SODIUM | | 1mg |

Ingredients

Corn

Health Benefits

Popcorn is a scrumptiouslow-calorie snack that can be good for you! Low-fat, source of fibre, popcorn offers a filling, fun treat popular with young and old. Depending on what toppings you add, it can be a healthy after-school snack for the kids or an unexpected treat for their lunchboxes. Popcorn is a whole grain – when you have both the germ and bran of the grain, you retain the goodness in any plant. Popcorn is perfect for those on gluten-free diet.

Country Of Origin

Product of Australia

Storage Instructions

Store in a cool dry area away from direct sunlight

How To Use

When popping corn, you want to find the perfect balance between popping most of the kernels and not burning any. Our method seems to have it down pat! Heat a small amount of oil in the bottom of a pan and throw in a few kernels. When these start to pop, you are ready to add the rest of the popcorn. Cover with a lid and take off the heat for 30 seconds. Return to the heat and the kernels should start popping not long after. Once the 'pops' have slowed to around every five seconds, your popcorn should be ready. Quickly transfer to a large bowl and enjoy! The popcorn can be eaten as is, or flavoured as you desire. Some healthy toppings include a sprinkling of nutritional yeast (for that cheesy flavour, really!) a dab of melted coconut oil and salt, a bit of olive oil warmed with a spring of rosemary, or just a dash of cinnamon and a drizzle of honey. Just bear in mind that what you add will determine if it is still a healthy snack or a sometimes-only treat! If you like it salty, try them out with our stunning Himalayan Pink Salt!