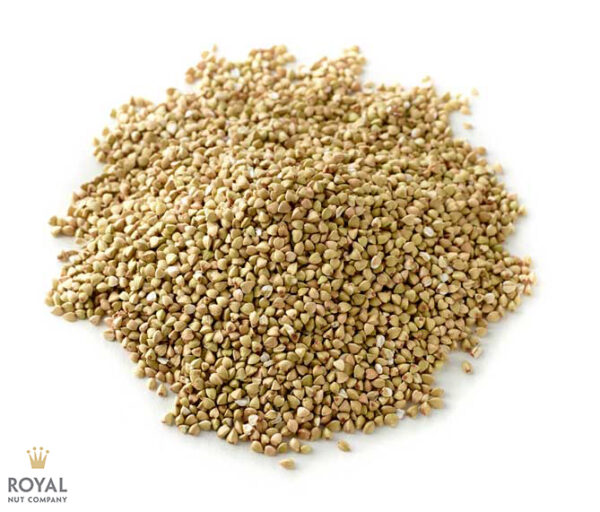 Buckwheat
From: $5.30
Wheat free! Buckwheat is proof that names can be misleading. A white triangular seed with a green or tan coloured skin, it isn't technically a grain but rather the seed of a broadleaf plant related to rhubarb. Unlike the name suggests, buckwheat contains no wheat making it a naturally gluten free grain, and so it is perfect for those choosing not to incorporate gluten into their diets. Energizing and nutritious, buckwheat is available throughout the year and can be served as an alternative to rice or made into porridge.
Nutritional Info

| | | |
| --- | --- | --- |
| GRAMS PER SERVE | 50 | |
| SERVES PER PACK | 20 | |
| | PER SERVE | PER 100g |
| ENERGY | 755kJ | 1510kJ |
| PROTEIN | 5.85g | 11.7g |
| FAT, TOTAL | 1.35g | 2.7g |
| SATURATED | 0.3g | 0.1g |
| CARBOHYDRATE | 33.2g | 66.4g |
| SUGARS | 0.7g | 1.4g |
| SODIUM | 5.5mg | 11mg |

Ingredients

Buckwheat

Health Benefits

Often heralded as a superfood, it is a terrific addition to a healthy diet as it is high in protein.As well as being high in fibre to help keep you feeling fuller for longer it contains important vitamins and minerals such as iron, zinc, folate and niacin for the immune system, healthy red blood cells and to unlock energy from food.

Country Of Origin

Product of China

Storage Instructions

Store in a cool dry area away from direct sunlight

How To Use

Its soft, subtle, nutty flavour makes it a perfect accompaniment to many dishes, or an ideal base for stews, salads, soups or even breakfast cereal. To prepare, rinse and bring one part buckwheat and two parts water to the boil and then simmer for thirty minutes. The seeds double in size when cooked so one cup dry will make two cups cooked.