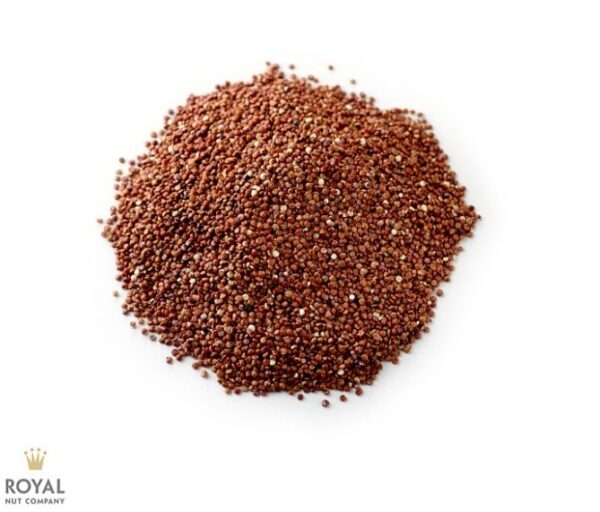 Organic Red Quinoa
From: $8.00
Our Organic Red Quinoa consists entirely of red seeds. This is a lovely alternative to the regular white seeds as it adds intense visual interest and colour to your meals. Red Quinoa has a stronger taste, similar to lentils, and can be bitter if not thoroughly rinsed. It also tends to stay firmer when cooked, producing a crunchier and more textured product.
Nutritional Info

| | | |
| --- | --- | --- |
| GRAMS PER SERVE | | |
| SERVES PER PACK | | |
| | PER SERVE | PER 100g |
| ENERGY | 186.5kJ | 373kJ |
| PROTEIN | 6.7g | 13.4g |
| FAT, TOTAL | 2.575g | 5.15g |
| SATURATED | 0.32g | 0.64g |
| CARBOHYDRATE | 34.3g | 68.61g |
| SUGARS | 0.91g | 1.83g |
| SODIUM | 13.95mg | 27.9mg |

Ingredients

100% Quinoa.

Health Benefits

As well as being gluten-free and low GI, quinoa is also an excellent source of protein, fibre and many essential vitamins and minerals. One serving of quinoa (approximately half a cup uncooked) provides over half of your daily-recommended intake of magnesium for healthy bones, and selenium for a healthy immune system. Quinoa is also a good source of iron and zinc. One serving of this super food offers a significant amount of folate, a mineral vital for healthy cell growth and red blood cells. Vitamin E, a powerful antioxidant, is also plentiful in quinoa.

Country Of Origin
Storage Instructions

Store in a cool dry area away from direct sunlight.