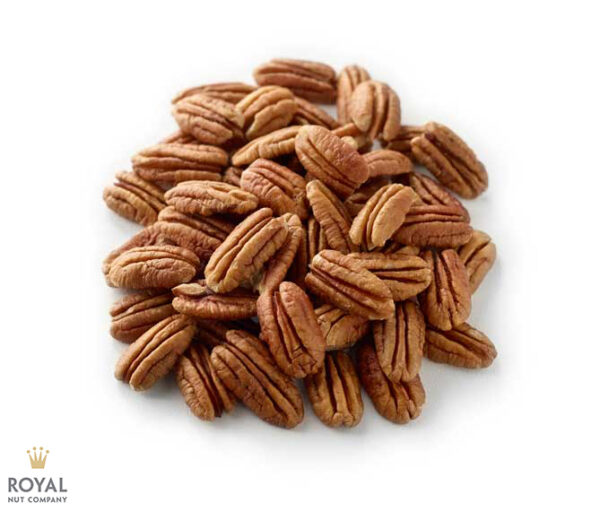 Pecan Halves
From: $17.00
I'll raise you a pecan! Before European settlement, pecans were often traded amongst NativeAmericans; they were an excellent food source for hunter gatherers as they are very high in energy. The name "pecan" is thought to have originated from the Algonquin Indian tribe word "pakan" which means a hard-shelled nut that requires a stone for cracking. Wild pecan trees grow up to 50 meters and can live and produce nuts for 150 years.
Nutritional Info

| | | |
| --- | --- | --- |
| GRAMS PER SERVE | 50 | |
| SERVES PER PACK | 10 | |
| | PER SERVE | PER 100g |
| ENERGY | 1444kJ | 2888kJ |
| PROTEIN | 4.6g | 9.2g |
| FAT, TOTAL | 36g | 71.9g |
| SATURATED | 3.1g | 6.2g |
| CARBOHYDRATE | 7g | 13.9g |
| SUGARS | 2g | 4g |
| SODIUM | <5mg | <5mg |

Ingredients

Pecans

Health Benefits

Pecans are abundant in healthy fats: both polyunsaturated and monounsaturated – including Omega 3 fatty acids, these fats are important for maintaining healthy cholesterol levels and a healthy heart. A natural source of fibre, just a 30g serve of pecans can deliver 10% of your daily requirement. In addition pecans are an excellent source of plant protein and are packed with a wide range of minerals, antioxidants and B vitamins. Pecans also have the essential minerals copper, magnesium and zinc, which are needed for healthy bones and a healthy immune system respectively.

Country Of Origin

Product of USA

Storage Instructions

Keep refrigerated before and after opening to ensure long-lasting freshness

How To Use

Think Pecan, think Pecan Pie! Yes, this is a must have in the pecan repertoire, but there are so many other uses for these gorgeous nuts! Sweet, with a delicious buttery note, most recipes that ask for walnuts will go well with pecans for a nice change. Bread, cakes and muffins can all benefit from the addition of pecans and they can turn a basic green salad into something spectacular. A visually striking nut, these add a special something to any dish or you can just enjoy as a healthy snack!