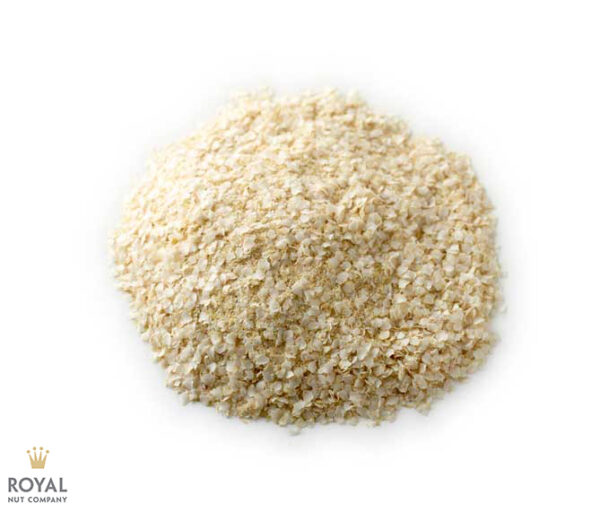 Quinoa flakes
From: $10.00
Organic Quinoa Flakes are made from white quinoa that has been rolled and flattened. After this process, the quinoa flakes can be eaten just like the puffed quinoa without any need for cooking.
Nutritional Info

| | | |
| --- | --- | --- |
| GRAMS PER SERVE | 50 | |
| SERVES PER PACK | 8 | |
| | PER SERVE | PER 100g |
| ENERGY | 772.5kJ | 1545kJ |
| PROTEIN | 7.05g | 14.1g |
| FAT, TOTAL | 2.5g | 5g |
| SATURATED | 0.6g | 1.2g |
| CARBOHYDRATE | 34g | 68g |
| SUGARS | 0.45g | 0.9g |
| SODIUM | 9.5mg | 19mg |

Ingredients

Quinoa

Health Benefits

As well as being gluten-free and low GI, quinoa is also an excellent source of protein, fibre and many essential vitamins and minerals. One serving of quinoa (approximately half a cup uncooked) provides over half of your daily-recommended intake of magnesium for healthy bones, and selenium for a healthy immune system. Quinoa is also a good source of iron and zinc. One serving of this super food offers a significant amount of folate, a mineral vital for healthy cell growth and red blood cells. Vitamin E, a powerful antioxidant, is also plentiful in quinoa.

Country Of Origin

Product of Bolivia

Storage Instructions

Store in a cool dry area away from direct sunlight

How To Use

The flakes can be added to breakfast cereal or muesli, or cooked up into a delicious and nutritious porridge; they're also a great addition to health food bars. As it is super versatile and absorbs flavours easily, try it for making crunchy crumbs for your chicken schnitzel!