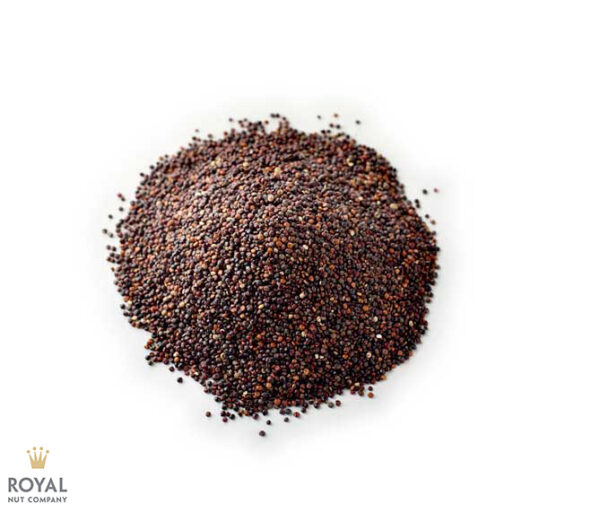 Black quinoa
From: $7.50
Our Organic Black Quinoa has an earthier and sweeter profile than the red or white quinoa seeds. It is important to soak the black quinoa first, then rinse well before adding fresh water for cooking to help remove the bitter coating.
Nutritional Info

| | | |
| --- | --- | --- |
| GRAMS PER SERVE | 50 | |
| SERVES PER PACK | 10 | |
| | PER SERVE | PER 100g |
| ENERGY | 790kJ | 1580kJ |
| PROTEIN | 6.75g | 13.5g |
| FAT, TOTAL | 3.9g | 7.8g |
| SATURATED | 0.05g | 0.1g |
| CARBOHYDRATE | 28.6g | 57.2g |
| SUGARS | 1.65g | 3.3g |
| SODIUM | 2mg | 4mg |

Ingredients

Quinoa

Health Benefits

As well as being gluten-free and low GI, quinoa is also an excellent source of protein, fibre and many essential vitamins and minerals. One serving of quinoa (approximately half a cup uncooked) provides over half of your daily-recommended intake of magnesium for healthy bones, and selenium for a healthy immune system. Quinoa is also a good source of iron and zinc. One serving of this super food offers a significant amount of folate, a mineral vital for healthy cell growth and red blood cells. Vitamin E, a powerful antioxidant, is also plentiful in quinoa.

Country Of Origin

Product of Bolivia

Storage Instructions

Store in a cool dry area away from direct sunlight

How To Use

Black Quinoa can be enjoyed as a hot breakfast cereal, topped with honey, nuts or berries. You can also include it in soups, stews and pilafs. Because of its slightly nutty flavour, Black Quinoa is also great added to breads, muffins, cookies and pancakes.