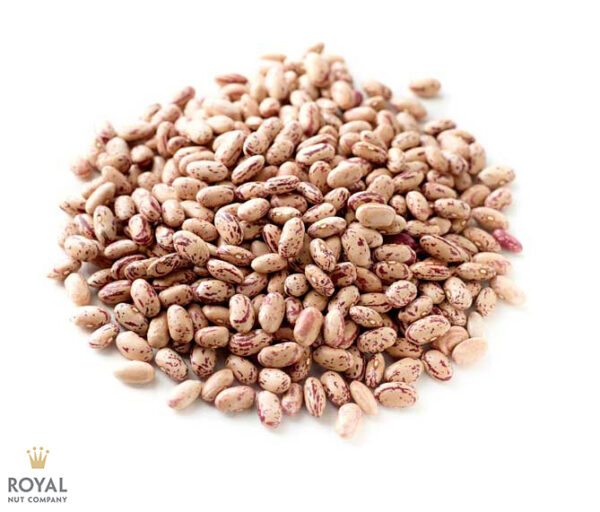 Pinto Beans
From: $4.00
Pinto beans have a speckled pink and beige appearance, an earthy flavour, and are very similar to borlotti beans. Pinto beans have a beige background strewn with reddish brown splashes of colour. When cooked, their coloured splotches disappear, and they become a beautiful pink colour with a delightfully creamy inner texture.
Nutritional Info

| | | |
| --- | --- | --- |
| GRAMS PER SERVE | 50 | |
| SERVES PER PACK | 20 | |
| | PER SERVE | PER 100g |
| ENERGY | 644.5kJ | 1289kJ |
| PROTEIN | 9.375g | 18.7g |
| FAT, TOTAL | 0.805g | 1.61g |
| SATURATED | 0.21g | 0.4g |
| CARBOHYDRATE | 32.4g | 64.9g |
| SUGARS | 1.25g | 2.5g |
| SODIUM | 2.65mg | 5.3mg |

Ingredients

Pinto beans

Health Benefits

Pinto beans are a very good source of cholesterol-lowering fibre, as are most other beans. Pinto beans' high fibre content prevents blood sugar levels from rising too rapidly after a meal. They contain folate, and are a source of protein and vitamin B1.

Country Of Origin

Product of Canada

Storage Instructions

Store in a cool dry area away from direct sunlight

How To Use

They are common in Mexican cooking and turn an attractive pink when cooked. Eaten whole or mashed, they are also the most common bean used for making refried beans, a staple dish of Mexico in which pinto beans are cooked and mashed, then baked or fried and seasoned with salt and spices.They can also be used to make a tasty dip by mixing with garlic, herbs and spices. Why not try combining the creamy pink texture of pinto beans with a whole grain such as brown rice for a high quality protein meal. Or how about a quick, healthy snack -- layer cooked pinto beans, chopped tomatoes and onions and shredded cheese on a tortilla. Broil in the oven until hot and the cheese melts. Top with chopped avocado and cilantro. You can also add pinto beans to vegetable soups for a dash of protein and fibre.